Students
UVA Studio Art majors are selected and supported each year by the Art Department to attend the ArtLab program at Mountain Lake. There is no curriculum or assignments. Students work alongside the other artists, an opportunity that is rare during the school year. Through the creative exchange between artists and the scientists at the Station, students get a sense of what it means to be a professional artist.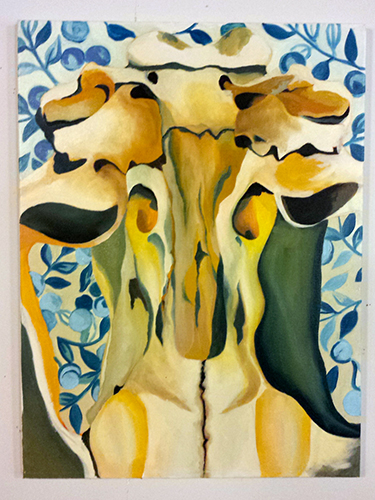 Proximity to the scientific work that happens at the Station is another benefit to art students, whose classes at UVA are on the other side of Grounds from most science classes and labs. Casual conversations at meals or in cabins between scientists and art students can spark ideas, or even simply provide the chance to learn about something completely different from the type of work students are doing.
In October the students show their work in the UVA Art Department.
2018 Student Artists
Anna Alpern
Amanda Christensen
Gabby Fuller
Ava Reynolds
Jacob Sawyer
Paige Taul
2017 Student Artists
Amanda Downing
Claire Golladay
Corrinne James
Charlie Lambert
Lauren Meinhart
Arietta Van Der Voort
2016 Student Artists
Ellie Crosby
Chance Lee 
Alexa Luna 
Erin O'Keefe 
Jessica Park  
Caitlin Peterson
2015 Student Artists
Noora Al-Saadawi 
Evelina Dubrovskaya
Cameron Mankin 
Ahn Oh
Hannah Varden
Sandy Williams
Jennie Xie
2014 Student Artists
Maggie Goodman
Julia Loman
Phuong Nguyen
Megan Rose
Sandy Williams